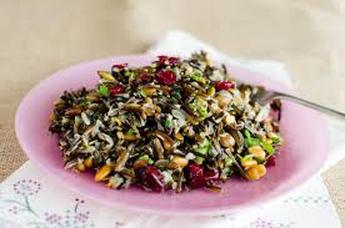 Wild Rice & Chanterelle Salad with Fresh Chevre
Here's a hearty salad that can be a satisfying vegetarian or gluten-free entrée or if you'd like toss in some shredded cooked chicken breast or duck confit. Sherry vinegar plays a key role in this vinaigrette as it is not as acidic as red wine vinegar and not overly sweet like balsamic. But, in a pinch you can substitute just be sure to adjust with more sweetness or more acidity. Serves 4
Ingredients
8

cup

water

2

cup

wild rice

2

tsp

salt; plus more to taste

1

bay leaf

12

sprigs thyme

4

tsp

grapeseed or canola oil

2

lb

chanterelle or portobello mushrooms; wiped clean

vinaigrette:

1/2

cup

olive oil

6

Tbs

sherry vinegar

4

lg shallots; thinly sliced

2

tsp

fennel seeds; toasted and cracked

2

tsp

cumin seeds; toasted and cracked

2

tsp

fresh thyme leaves; coarsely chopped

2

tsp

freshly ground black pepper

1

cup

mixed dried fruits

1

cup

chopped walnuts; toasted

1

lb

stemmed arugula or watercress; washed

dried

8

oz

fresh chevre

crumbled, goat cheese
Instructions
Method To prepare the rice:

1. Wash the rice under cold water for 2 minutes. Bring 8 cups of water to a boil and add the salt, bay leaf, and thyme. Add the washed rice to the boiling water and simmer for 40 minutes, or until tender. Drain the rice and remove the bay leaf and thyme; let cool. (This can be done 1 day ahead of time and refrigerated.) You should have 7 cups cooked rice.

2. In a large skillet, heat the grapeseed or canola oil over medium-high heat. Add the mushrooms and cook, stirring occasionally, for 5 to 6 minutes, or until lightly browned. Remove from heat, drain well, and set aside.

To make the vinaigrette:

1. In a small bowl whisk together the olive oil, sherry vinegar, shallots, fennel, cumin, thyme, and pepper and season with salt. Add the dried fruits.

2. In a salad bowl, combine the cooled wild rice, cooked mushrooms, and walnuts. Toss with the vinaigrette and fruits.

3. To serve, portion the salad onto a large platter, top with the greens, and sprinkle with the crumbled goat cheese.