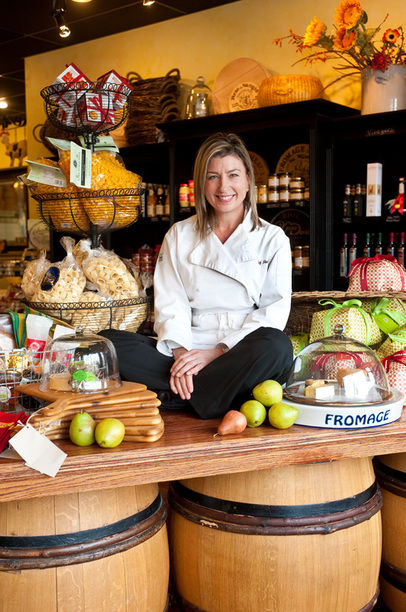 Annapolis' Gourmet & Specialty Food Market
Tastings Gourmet Market is a one of a kind Old World European-style shop specializing in artisanal, farmstead and imported cheeses, handmade French chocolates, authentic French croissants, baguettes and breads, as well as many gourmet pantry items. Tastings also offers the finest caviar (special order), charcuterie and pâtés served to order. There isn't anything that they can't source for you.
The daily menu includes freshly made soups, leafy salads, grain salads, quiche, foccacia, flatbreads, and sandwiches featuring many of the specialty products they sell on the floor. All of the vinaigrettes are made in-house as well. They are continuously adding to their menu and now offer many gluten-free options.
Tastings is owned by Stacey Adams; a professional chef and culinary instructor. She opened Tastings Gourmet Market in 2006 when she simply couldn't find the type of products that she fell in love with while traveling through Italy, France, Greece, Spain and Eastern Europe. The experience of walking into an Old World-style European market — the pungent odors of dried salumis hanging from the ceiling, perfectly aged cheeses cut to order, regional delicacies that define cultures and traditions — are unforgettable memories that she seeks to recreate at Tastings. With a Finance degree from Texas A&M University, Stacey started a marketing research firm out of college focusing on measuring customer satisfaction for her clients and spent many years in corporate finance with Merrill Lynch and Morgan Stanley. With her service philosophy as the cornerstone of the store, there is nothing that she and the staff won't do for their customers. They are committed to providing you a warm and friendly customer experience that you will always remember.
"I am always seeking new and exciting products for our customers. I support small producers who have a passion for their product and I have personally met nearly all of these wonderful artisans. I'm on a Gluten Free diet right now and it's been a challenge to find great ingredients but I promise what we offer is the best out there. I try to source products that are only available to chefs and high-end restaurants because I want people to have the best ingredients to cook with at home."