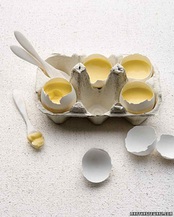 Vanilla Custard Served in Eggshells
Sweet yellow custard served in bright white eggshells…what else could you want in an Easter dessert?
Ingredients
6

large eggs

3

cups

whole milk

1/2

vanilla bean

seeds scraped

1/2

cup

sugar

1

envelope unflavored gelatin

about 2 1/4 teaspoons

1/2

teaspoon

Salt
Instructions
Using a paring knife, score eggshells two-thirds of the way up, and carefully crack. Separate egg whites and yolks. Transfer 5 egg yolks to a bowl; reserve egg whites and remaining yolk for another use. Bring a small pan of water to a boil. Add eggshells, and boil 3 minutes. Using a slotted spoon, remove shells, and drain. Scrape out membrane, and discard. Set eggshells aside in an egg carton.

Put milk, vanilla bean and seeds, and sugar into a medium saucepan; sprinkle with gelatin. Let stand until softened, about 3 minutes. Cook over low heat, stirring until sugar and gelatin are dissolved, about 2 minutes.

Whisk salt with egg yolks. Slowly whisk in hot milk mixture until combined, and then pour back into saucepan. Cook over low heat, stirring occasionally, until custard is thick enough to coat the back of a spoon, about 3 minutes. Remove vanilla bean. Pour custard through a sieve into a pitcher; discard solids.

Pour 2 tablespoons custard into each eggshell, and divide remaining custard among six 6-ounce ramekins (alternatively, divide all custard among eight 6-ounce ramekins). Refrigerate until set, about 4 hours.