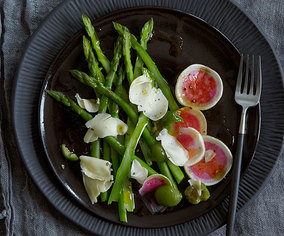 Shaved Watermelon Radish and Asparagus Salad with Castelvetrano Olives and Gouda
This salad is a visually stunning combination of texture and fresh spring flavors. Watermelon radishes can be found at farmers markets, but may be substituted with another radish variety.
Ingredients
60

medium-large asparagus spears

ends trimmed or snapped away

2

cups

Castelvetrano olives

Good-quality extra-virgin olive oil for dressing

White balsamic vinegar for dressing

Kosher salt

Freshly cracked pepper

4

medium watermelon radishes

trimmed

5

oz. Gouda or other semifirm cheese
Instructions
Have ready a steamer rack and a pan of simmering water. Fill a large bowl with ice water and place near the stove. Line a platter with a double thickness of paper towels and place near the ice water. Working in batches, arrange about one-third of the asparagus on the steamer rack and place the rack over the water, making sure the water is 1 inch or so below the rack. Cover the pan with a tight-fitting lid and steam the asparagus until crisp-tender, about 3 minutes. Using tongs, immediately transfer the asparagus to the bowl of ice water. Let cool for a few minutes and then transfer the asparagus to the towel-lined platter and blot dry. Repeat with the remaining asparagus, steaming and cooling them in two batches.

Using a sharp paring knife, slice each asparagus spear in half lengthwise, or in thirds if the spears are particularly thick. Set aside.

Pit the olives by crushing them with the side of a chef's knife or other hard, flat object. Work the pits out with your fingers and discard. Place the olives back into the olive juice (to keep their bright green color) and refrigerate until needed.

Place the asparagus in a bowl and toss with just enough olive oil to coat without leaving a puddle at the bottom of the bowl. Drizzle with a splash of vinegar, season with salt and pepper, and then gently toss again. Arrange the asparagus on a platter or divide among individual salad plates.

Using a mandoline set on the narrowest setting, shave the radishes into rounds and place in a bowl. Toss the radish slices with just enough olive oil to coat, add a splash of vinegar, and then season with salt and pepper and toss again. Spread the radish slices across the center of the plated asparagus. Drain the olives and scatter them around the platter or plates. Using a vegetable peeler, shave thin slices of the cheese over the top. Garnish with pepper and serve immediately.
Notes
Image via Fine Cooking Original recipe via Fine Cooking, from the book Roots: The Definitive Compendium with more than 225 Recipes by Diane Morgan