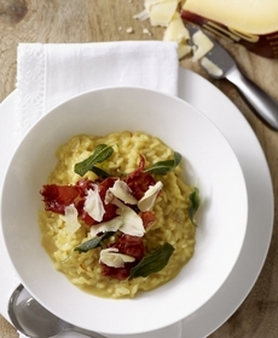 Saffron Risotto with Serrano Ham
Ingredients
​3½

oz.

freshly grated Prima Donna

plus a few slices as garnish

3

cups

chicken bouillon

1½

oz.

butter

1

small finely cut onion

6

oz.

risotto rice

½

cup

dry white wine

a few saffron strands

2

Tbsp.

olive oil

3

slices

of Serrano ham

each piece torn into 3

12

fresh sage leaves
Instructions
Bring the bouillon, with the saffron, to the boil, and let it cook on low heat. Melt the butter in a large pan over low heat. Gently fry the onion and add the rice. Fry the mixture 2 to 3 minutes until the grains become glassy. Add the wine, stir and let the mixture cook slowly until the liquid has evaporated.

Gradually add the bouillon; continue stirring while adding 1 cup at a time and wait until the moisture has been absorbed before adding more. Cook for about 20 minutes until the rice begins to look creamy and is al dente.

Turn the heat off and stir the grated Prima Donna into the risotto. Put the lid on the pan and allow the risotto to absorb the flavours for a few minutes.

Heat the oil in a frying pan and quick-fry the pieces of ham. Remove them from the pan and allow them to drain on kitchen paper. Fry sage leaves in the same pan until crisp.

Divide the risotto on plates and garnish with the crispy ham, sage leaves and a few fine shavings of Prima Donna.