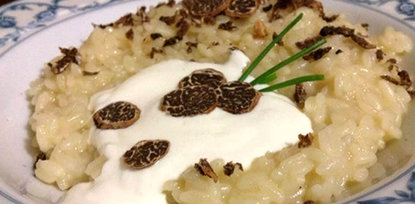 Risotto with Robiola Cheese & Black Truffle
Robiola is a buttery soft cheese that can be enjoyed simply spread on bread or crackers, but it takes this risotto to another level of creamy decadence. Makes 4 servings
Ingredients
1

oz

risotto rice

1/2

oz

Robiola

Black truffle

black truffle salt, or Truffle Zest Seasoning

2

liters

of vegetable broth

1

onion

1

glass of white wine

Salt and pepper

Chopped parsley

Grated Parmigiano Reggiano
Instructions
Heat broth in a pot.

Fry the chopped onion in a pan with some olive oil, then add the rice and pan-fry until oil is absorbed.

Add the glass of wine and simmer until wine is evaporated.

Begin to add the broth gradually with a ladle. Every time the liquid has been absorbed, add more broth and stir constantly. The rice will be cooked in about 15 minutes.

Shortly before the rice is cooked, add the Robiola, salt, pepper, chopped parsely, and the grated Parmigiano Reggiano.

Stir well for another minute and then serve the risotto with thin slices of grated black truffle sprinkled over it or season with black truffle salt.
Notes
Original recipe and image source: Sensibus