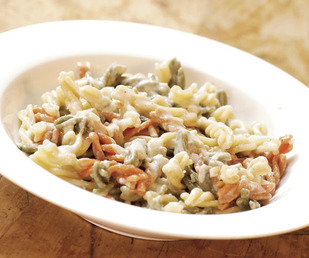 Quick Gorgonzola Pasta Sauce
This rich sauce is a fantastic compliment to your favorite hearty pasta. Try with some steamed broccolini mixed in at the end. Yields 1 1/4 cup, enough to coat 1 pound of pasta for 6 servings
Ingredients
2

tsp.

unsalted butter

2

tsp.

finely chopped shallots

1

tsp.

ground coriander

1/2

tsp.

freshly ground black pepper

1/2

cup

heavy cream

1/2

lb.

Gorgonzola Dolce

trimmed of any rind and cut into small chunks
Instructions
1. In a medium saucepan, melt the butter over medium-low heat and add the shallots, coriander, and pepper. Cook until the shallots are transparent but not brown, 2 to 3 min.

2. Add the cream and bring to a boil. Simmer gently until slightly thickened, about 5 min.

3. Remove cream from the heat and stir in the Gorgonzola. Set back on the heat only long enough to melt the cheese.

4. Toss with hot pasta, or cool and refrigerate for up to four days. Reheat gently before use.