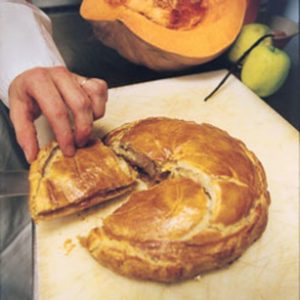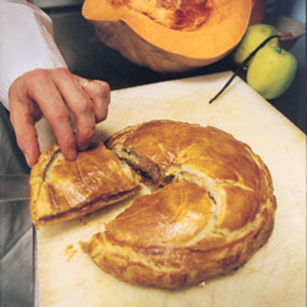 Pumpkin Pie, French Style!
During the fall season there is a bit of a pumpkin saturation…but we secretly love it. Pumpkin spice lattes, chocolates and ice creams are fun, but nothing beats the dish they're all trying to emulate: pumpkin pie. This is a recipe for pumpkin pie with a French twist-be sure to check out the recipe for an Italian pumpkin pie, too! We hope you enjoy, and perhaps one will make it onto your holiday table this year! ​Bon Appetit! French Pumpkin Pie Makes 8 servings
Ingredients
6

Tbsp

butter

3

lbs

kaboch squash or cinderella or cheese pumpkin

seeded, peeled, and diced

2

granny smith apples

peeled, cored, and diced

3/4

cup

brown sugar

1

vanilla bean

split

1/4

cup

shelled pecans

chopped

2

sheets puff pastry

7 1/2-by-14 1/2-inch

1

egg

lightly beaten
Instructions
Melt butter in a large skillet over medium-high heat. Add pumpkin and apples, and cook, stirring occasionally, 8-10 minutes. Reduce heat to low, add sugar and vanilla beans, and scrape browned bits from bottom of skillet with a wooden spoon. Cover skillet, and cook until pumpkin and apples are very soft and jammy but still holding their shape, about 30 minutes. Set aside to cool. When cool, discard vanilla beans and stir in pecans.

Preheat oven to 350°. Roll out 1 sheet of puff pastry into a square on a lightly floured surface. Using an 11″ tart ring as a guide, cut out a circle and set aside. Roll out remaining sheet of pastry into a square; then ease pastry into the tart ring, and set on a parchment-lined baking sheet. Trim edges to overhang by 1⁄4″. Fill pastry with pumpkin mixture; then lay reserved pastry circle over filling. Tuck edge of top pastry between filling and bottom pastry, and brush surface with egg. Fold overhanging bottom pastry back over top pastry. Bake until deep golden, 35-40 minutes. Allow to cool slightly before serving.