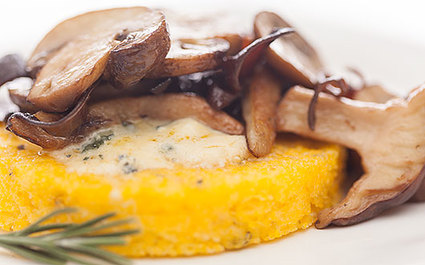 Polenta with Mushrooms and Cambozola Black Label
Polenta is a fantastically versatile food. Create a nice porridge consistency for shrimp and cheesy grits, or shape it and bake into cakes to be topped with a wide range of sauces; it's both comforting and elegant at the same time. We found this amazing recipe featuring tender, meaty mushrooms and creamy Cambozola Black Label, one of our very best blue cheeses. It's the perfect combination of sweet and umami, and is sure to become a favorite dish to make year-round.
Ingredients
1

cup

polenta

2

cups

¼water

cup

¾milk

1

teaspoon

dried thyme

optional

Salt and pepper

1

tbsp

olive oil

1

lb.

mixed mushrooms (Shiitakes

creminis, baby bellas, elephant ears, etc)

2

tbsp

Marsala wine

optional

2

cloves

of garlic

4

oz.

Cambozola Black Label

Fresh rosemary
Instructions
In a medium saucepan, heat the water and milk and a dash of salt. Bring almost to a boil. Whisk in the polenta and lower the heat to medium-low. Cook the polenta for 10–15 minutes, giving it an occasional stir, until thick as porridge. Stir in the thyme, salt, and pepper.

Grease a 9-inch-square cake pan (you can use round too, or even a muffin pan, but your rounds will be slightly smaller and thicker). Spread the hot polenta into the pan. Let the polenta cool. Brush the top with oil and cover with plastic wrap (tight to the polenta). Refrigerate for two hours, until set.

Preheat the oven to 365. Bake the polenta for 20 minutes (15 if using muffin pan).

While the polenta is baking, prepare your mushrooms. Slice the mushrooms, keeping them slightly thick (about ¼ inch).

Heat the oil on medium-high heat. Add the mushrooms and garlic. Cook for 5 minutes without stirring, until the mushrooms are slightly browned. Then give them a toss and let them cook another 5 minutes or so, until the mushrooms are tender.

Add the wine and cook another 3 minutes to cook off the alcohol. Add salt and pepper to taste.

When your polenta is done, cool enough just to handle. Use a cookie cutter or cup to cut out 4-inch rounds (or 4-inch squares if you prefer). Plate the polenta cake. Top with a wedge of Cambozola Black Label.

Spoon the mushrooms on top of the Cambozola, and plate with an aromatic sprig of rosemary. In presentation, you can be as precise (using a ring to shape the mushrooms) or as free-form as you like. Either way, your dinner guests' senses are sure to be delighted.