I'm in love with Paella a la Valencia!
I love Spanish flavors but was always so afraid to make paella.  It just looked complicated and wasn't something I could easily make on a weeknight for dinner.  
Plus, I thought it was a heavy dish that would leave me so full at the end of my meal.   I couldn't be more wrong on both counts.
With a few shortcuts from the traditional recipe, I could make paella any night of the week and I realized that using the correct rice makes all the difference in the world when it comes to the heaviness of this glorious dish.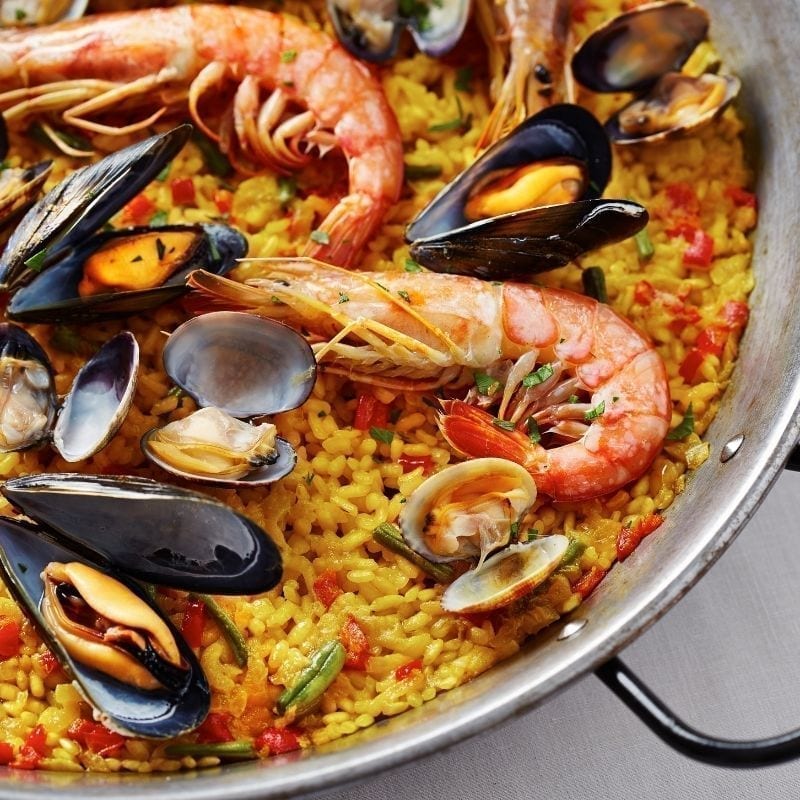 Paella Essentials & Tips
When I was in Valencia, Spain last year I took a field trip to El Raco de la Paella, the only remaining wood-fired paella restaurant.  I was determined to learn exactly how Spaniards make this traditional dish.  Paella means "for her" and it was always cooked by a man for his woman.  Well today, this girl was in charge and was entering this extremely hot kitchen risking burns and all to learn this craft with my expert teacher at my side.
Use the right Rice
If there is one thing I know about making Italian risotto or Spanish paella it's that rice matters.  These grains are short and fat and have a little white kernel in the center.  Surrounding the kernel is the starch that can only be released as hot liquid is added.
To make proper paella you need to find Spanish paella rice called Calasparra or Bomba rice.  Grown in the rich soils of the national protected L'Albufera Park of Valencia, both of these short-grain kinds of rice make perfect paella. Their high absorption rates (Bomba absorbs one-third more water than the traditional) allows them to soak up and hold the abundance of flavors in your paella pan.
My paella teacher at the restaurant said that "Bomba rice is hard as a stone until a moment arises and then it's perfect."   The key is finding that moment otherwise you could overcook it and it will be gummy.
He said,  "The rice should be exactly four grains high in the pan.  The first layer is for the burn and the last three are for the dish."   It's not a dish where you can leave your post, especially near the end.  He tells me, "When the rice sings, you hear the moment that it's ready."  In the last twenty seconds of cooking the paella, the pan is put directly on the fire to burn the lowest grain.  Then it rests for five minutes, no longer.
Use a very flavorful broth
My secret to making a great paella and a great shortcut is to simply use Aneto Spanish Paella Bases.  Seriously, they have everything in it you need (including the snails, rabbit, and saffron) to cook like a professional paella maker.  Plus unlike most cooking bases on the market, Aneto uses no concentrates or powders.  It's the real deal.  Just add rice and chicken or fish for the perfect paella every time.
Use the right pan
I know there are some paella recipes out there that say using a large saute pan is okay.  I'm going to go out on a limb and say "nay" to this one.  I want you to be successful and happy with your dish so you need to use the right pan.
The pan used to make paella, "a paellera," is what gave the dish its name.  It's shallow, wide and round with slightly sloping sides which ensures that the rice cooks evenly.  Little dimples on the pan's surface help regulate the heat and allow the pan to cool very fast.
A little more tradition
Paella is a lunch dish in Valencia and never eaten at dinner.  Plus it's only eaten once a week to prevent "rice belly," as they like to call it.  And while nearly every restaurant will serve paella on their menus for dinner if you order it that's a telltale sign that you are a tourist.
Traditionally, the paella pan is placed at the center of a round table with a wooden spoon placed alongside the dish.  Each diner takes the wooden spoon and draws through the rice to "marks her territory" and then eat right out of the pan.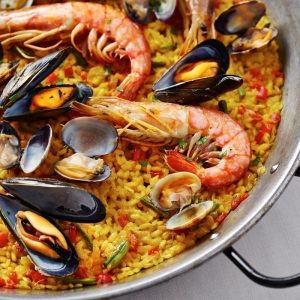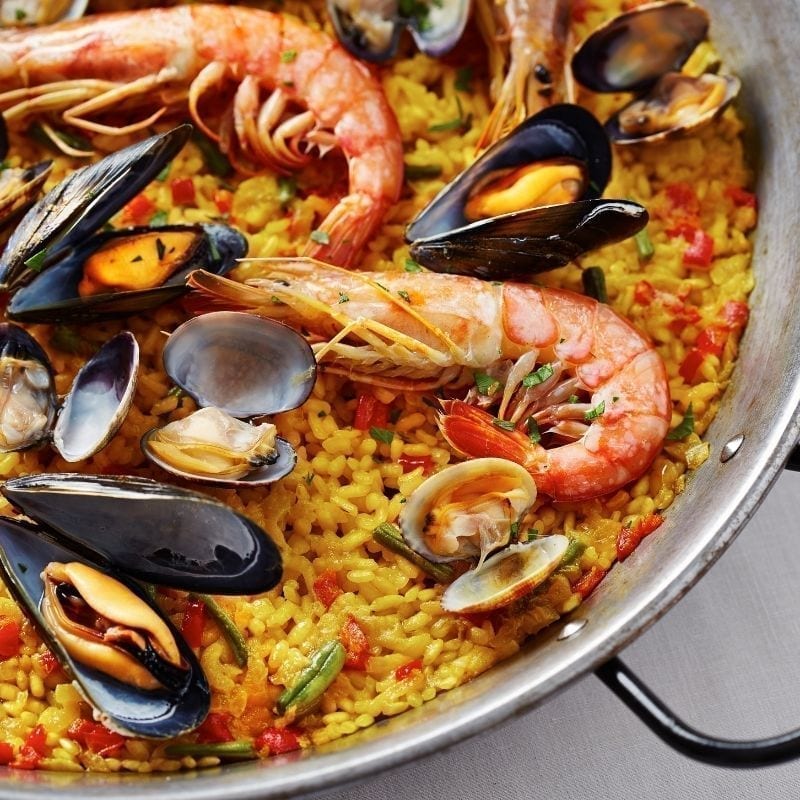 Paella a la Valencia
This version below uses my secret shortcut Aneto Paella Base. It cuts down the number of ingredients you would otherwise need to have and is especially convenient when you don't keep expensive saffron in your pantry. I've updated this recipe based on ingredients that can be found at your local grocery store or specialty market.
Ingredients
1

quart

Aneto Paella Base

1

pound

skinless, boneless chicken thighs

cut into 1 1/2-inch chunks

to taste

Kosher Salt & Freshly Ground Pepper

5

Tablespoons

Extra-virgin olive oil

1/4

pound

Spanish Chorizo

sliced into 1/4-inch pieces

1

medium

yellow onion

chopped

4

Tablespoons

chopped garlic

4

Piquillo Peppers

seeded, cut into 1/2-inch pieces

1

pound

medium shrimp

shelled, de-veined

8

jumbo

shrimp

in their shells, preferably head-on (optional)

3

cups

Bomba or Calespera rice

or other short grain Spanish rice

5

Tablespoons

freshly chopped flat leaf parsley

2

bay leaves

1/2

cup

dry white wine

1/4

pound

frozen peas

12

clams and/or mussels

scrubbed

Lemon wedges for garnish

Fresh parlsey for garnish
Instructions
Pre-heat oven to 325 degrees

In a medium saucepan, heat the Aneto Paella base with 1 1/2 cups water over medium heat, cover and simmer 15 minutes. Measure the broth — you need exactly 5-1/2 cups. Keeping a cover on the saucepan keeps the liquid from reducing in volume.

Pat dry the pieces of chicken well and sprinkle with salt.

In a metal Paella pan, with about a 15-inch base, heat the oil. Add the chicken pieces and sauté over high heat until golden. Remove to a warm platter. Add the chorizo to the pan and stir fry about 10 minutes. Add the chopped onion, garlic, and pimentos and sauté until the onion is wilted.

Add the rice to the pan and stir to coat it well with the oil. Sprinkle in the 5 tablespoons of chopped parsley and the crumbled bay leaves. (You can make in advance up to this point.)

Pour in the wine and let reduce to half.

Add the broth and bring to a boil and cook uncovered, stirring occasionally, over medium-high heat about 10 minutes. Stir in the peas. Bury the shrimp and the chicken in the rice. Add the clams and the mussels, pushing them into the rice, with the edge that will open facing up. Bake at 325° F, uncovered, for 20 minutes. Make sure clams and mussels have opened.

Remove from the oven and let sit on top of the stove, lightly covered with foil, for about 10 minutes. To serve, decorate with lemon wedges and chopped parsley.
Notes
Although, this is a traditional recipe you can add any protein or vegetables that you like.  You can season to your taste by adding more or less salt, smoked paprika, or garlic.
HUNGRY FOR MORE?

  Subscribe to our newsletter and follow along on Facebook or Instagram for all the latest updates.

[ctct form="4243″]