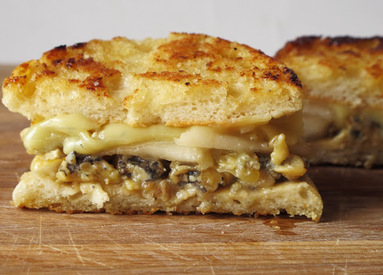 Little Boy Blue- Grilled Blue Cheese Sandwich with Morbier, Pear, & Honey
Morbier- one of Stacey's favorite cheeses, in fact!- is currently not allowed in the US due to it's raw milk content. So we recommend Secret de Scey, which is basically the exact same thing as Morbier, but made with pasteurized milk. How appropriate to be featuring a recipe with one raw milk cheese (Asher Blue) and another raw milk cheese not even allowed in the country, just ahead of National Raw Milk Cheese Appreciation Day!
Ingredients
1

tbsp

of crumbled Asher Blue Cheese

1/2

tbsp

of honey- original recipe recommends Tupelo honey; we love Acacia

but any of the honeys we sell would be delicious

2

pats of salted butter

1

slice

of Morbier

Secret de Scey

1

English Muffin

3

slices

of pear
Instructions
Cut your English Muffin in half and flip it over so the bottom is the side with all the delicious nooks and crannies.

Pile on a few pieces of pear. The semi-grainy texture of the pear is really great when it's held up against the melted cheese and crunchy texture of the grilled English Muffin.

Gently sprinkle on some of the Blue Cheese. If it falls off the sandwich, don't worry – the next step will help keep the blue cheese on.

Drizzle on some honey.

Put on the top piece of English Muffin (remember inside on the outside!) and smear a pat of butter all up in those delicious little nooks and crannies. Then once your sandwich is built, go ahead and melt the other pat of butter in your skillet by turning the heat to medium. Then when it's melted, gently place sandwich in and try to sop up all the butter.

Depending on how hot your range gets, it should take about 3-4 minutes to develop a nice crispy crust on the english muffin. Once it's ready on one side, gently flip the grilled cheese and brown the other side as well.

Then when evenly golden and crispy on each side, take it out of the skillet and serve while it's all hot and gooey!