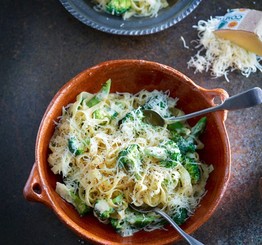 Linguine with Broccoli in Comté and Thyme Sauce
We can't think of a better way to sneak in a serving of green veggies!
Ingredients
1

cup

crème fraîche

3/4

pound

Comté

finely grated

1 1/4

cups

broccoli florets

2

large free range egg yolks

Leaves from a few sprigs of thyme

14

ounces

linguine

Good quality extra virgin olive oil

to drizzle on at the end
Instructions
Bring a large saucepan of water to the boil, add a teaspoon of water and rest a large heatproof bowl over the top of the pan, so that the bottom of the bowl doesn't touch the water. Boil a kettle of water (for later on).

Put the crème fraîche and 1/2 pound of the Comté in the bowl. Stir gently until the cheese is melted into the crème fraîche. Season to taste with salt and pepper.

Cut off the hard ends of the broccoli, slice the stalks diagonally and leave the smaller florets whole, or cut any large ones in half.

Once the cheese mixture is all combined, remove the bowl from the pan, turn the heat up high so the water is boiling hard. Drop in the tagliatelle and broccoli – top up pan with boiling water to cover it all fully. Boil for 2 to 3 minutes until the pasta is just cooked through.

Whisk the egg yolks and thyme leaves into the sauce, drain the pasta and broccoli (keep a little of the cooking water) and toss them in the sauce. If the sauce is a bit too thick, you can loosen it with a little of the cooking water. Taste and season if necessary, then serve immediately with a drizzle of extra virgin olive oil and the remaining Comté sprinkled over the top.
Notes
Original recipe and image source: Laura Pope, via tabl