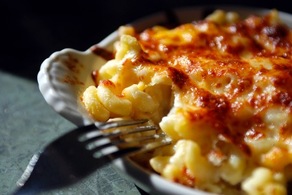 La Tur Macaroni and Cheese
Ingredients
2

inch

fresh nectarines

cut into 1/2cubes

1/2

teaspoon

granulated sugar

8

ounces

uncooked small shell macaroni (use gluten-free noodles

if you prefer)

1 1/2

full wheels of La Tur cheese

1

cup

heavy cream

1

teaspoon

salt

Freshly ground black pepper

1

tablespoon

fig jam
Instructions
Preheat oven to 350°F (176°C)

Spread nectarines cubes on a baking sheet and sprinkle with sugar. Bake for 5 minutes, or just until they begin to caramelize around the edges. Remove from oven and set aside.

Cook the pasta in a large pot of salted boiling water, until just al dente. Drain the pasta through a colander. Fill four 8-ounce ramekins or mini cocottes with pasta, leaving 1/2 inch of room at the top.

Remove and discard the hardest parts of the cheese's rind – the remainder of which is not only edible, but delicious – and chop the wheel into small chunks. Divide into four equal portions.

Place an equal portion of pasta, cheese and nectarine into each ramekin, sprinkling each with 1/4 teaspoon of salt and a few turns of the pepper grinder. Toss until well combined. Add 1/4 cup of cream to each ramekin.

Place your ramekins onto a baking sheet and bake for 10 minutes, or until the cream has just thickened into a nice gratin. Slide ramekins into the broiler for a minute or two to brown the top.

Top each ramekin with 1 tablespoon fig jam before serving. Serve immediately.