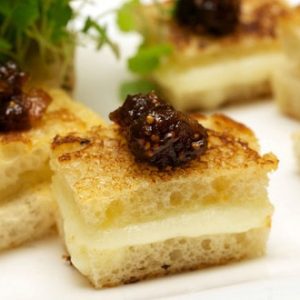 Grilled Cheese Sandwiches with Fig Ketchup
Makes 2 servings as a main course, or 8 as hors d'ouerve
Ingredients
Fig Ketchup
2

Tbsp coriander seeds

2

Tbsp cumin seeds

1/2

cup

brown sugar

1/2

cup

chopped fresh figs

1/2

cup

rice wine vinegar

1/2

cup

diced canned tomatoes

1

cinnamon stick

1

fresh bay leaf
Grilled Cheese
4

slices

1/2-inch brioche

Salt and pepper to taste

8

slices

1/4-inch thick Brebirousse d'Argental or Pecorino Gregoriano

2

Tbsp butter
Instructions
In a medium pot, toast the coriander and cumin over medium heat until fragrant, about 1 minute. Add the sugar, figs, rice wine vinegar, tomatoes, cinnamon stick, and bay leaf. Raise the heat to high and cook until the mixture reaches a boil, then reduce the heat to low and simmer until it's thick and jam-like, about 30 minutes. Let cool in the refrigerator for several hours.

Season the brioche on both sides with salt and pepper. Place 2 slices of the bread on the work surface, then layer 4 slices of cheese on each slice. Spread some fig ketchup on the other two slices of bread. Place the ketchup-topped slices, ketchup side down, on top of the cheese-topped slices to make the sandwiches.

Melt the butter in a skillet over medium heat. Add the sandwiches to the pan and grill until toasted and the cheese begins to melt, about 2 minutes. Flip and toast the other side until the cheese is thoroughly melted, about another 2 minutes. (Depending on the size of your skillet, you may have to grill the sandwiches one at a time.) Transfer to a paper towel-liked plate.

If you're serving the sandwiches as a main course, place on plates and garnish with watercress. If you're serving them as hors d'oeuvre, cut each sandwich into 4 pieces and garnish with watercress. Serve some fig ketchup on the side for dipping.