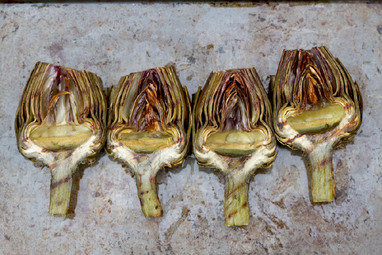 Grilled Artichokes with Lemony Moroccan Dip
These days you can find artichokes year round at the grocery store, but they are especially good when in season in the spring and summer- and what better way to prepare them during those warm months than on a hot outdoor grill? The Lemony Moroccan Dip is the perfect pairing for this special treat.
Ingredients
Lemony Moroccan Dip Ingredients
½

c

mayonnaise

1

t

fresh lemon juice

1

small garlic clove

minced (optional)

1

T

Dulcet Moroccan Cooking Spice & Rub
Grilled Artichokes Ingredients
2

Large Globe Artichokes

1

Lemon

Olive Oil
2

Large Globe Artichokes

1

Lemon

Olive Oil
Instructions
Prepare Lemony Moroccan Dip by simply mixing all the ingredients together, then place in the refrigerator while you prepare the artichokes.

Wash the artichokes under cold water and use a sharp knife to carefully cut the top of the artichoke.

Trim away the sharp thistles of the outer leaves- kitchen shears make this easier work- then if your artichokes have a stem, peel with a peeler.

Rub all the cut surfaces with a lemon half.

Steam the artichokes for 20 minutes, remove from the steamer, and let them cool long enough to handle.

Carefully cut the artichokes in half lengthwise, and use a spoon to scoop out the choke.

Brush the artichokes with olive oil and place them on a medium hot grill, grilling for approximately 6 minutes per side.

The artichokes are cooked when the leaves pull away easily; serve with Lemony Moroccan Dip!