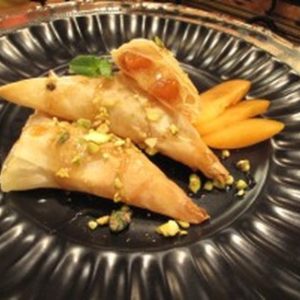 Camembert Feuilletee with Apricot Syrup and Pistachios
Nadia Giosia is better known as Nadia G., a Canadian cooking personality/comedienne who turned her online cooking series into one of the Cooking Channel's hottest shows called……Bitchin' Kitchen. Show gimmicks aside, she is an extremely creative chef, creating unique recipes and encouraging the use of real, unprocessed foods. Enjoy this recipe from her show, featuring decadent camembert and sweet apricot nectar and jam.
Ingredients
3/4

cup

water

3/4

cup

raw or turbinado sugar

15

dried apricots

cut into small dice

1/2

cup

apricot nectar

2

tablespoons

apricot jam

1

vanilla bean

Pinch ground cinnamon

3

sheets phyllo pastry

Unsalted butter

melted

1/2

cup

Camembert

rind removed

3/4

cup

shelled pistachios

pinch

Smallcayenne pepper

pinch

Large sea salt
Instructions
1. Preheat the oven to 375 degree F.

2. Bring the water and raw sugar to a boil, then simmer over medium heat. Add the dried apricots and reduce the heat to medium-low. Add the apricot nectar, apricot preserves, vanilla bean, and cinnamon. Allow the mixture to simmer for 10 minutes, until reduced. Remove the saucepan from the heat and strain to separate the apricot pieces from the syrup. Discard the vanilla bean.

3. Line a baking sheet with parchment paper. Lightly brush the sheets of Phyllo pastry with unsalted butter. Cut the sheets into 3-inch wide, long strips. Add 1 tablespoon of camembert topped with 1 teaspoon of apricot pieces a few inches from bottom edge of each phyllo strip. Fold the bottom edge of phyllo over the filling so that the bottom edge meets the side edge to form a triangle. Continue to fold the triangle sideways and upward to the end of the strip, like folding a flag. Flip the triangle over to seal. Place the triangles on the baking sheet. Brush lightly with melted butter and bake for 18 minutes.

4. Roughly chop the pistachios, sea salt and cayenne pepper in a food processor. Drizzle pastries with apricot syrup and sprinkle them with spiced, crushed pistachios.