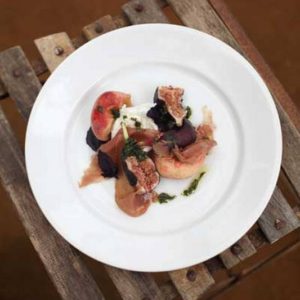 Buffalo Mozzarella with peaches, figs and San Danielle Prosciutto
This recipe is light in feel and taste – and it takes only a few minutes to prepare. Here it is pictured on an individual plate, but it is also lovely served on a large platter and placed on the middle of the table for all to share. It is important that the fruit is at its very best. Prepare this dish as close to serving as possible – preferably as you are sitting down to eat. Serves 6 individual salad plates
Ingredients
Basil oil:
1

leaves

generous bunch of basil

only

Pinch of sea salt

1

tablespoon

of the best extra virgin olive oil you can afford
For the salad:
3

very ripe peaches

6

ripe figs

6

balls of mozzarella

12

slices

San Daniele Prosciutto

Sea salt and freshly ground black pepper
Instructions
1. Make the basil oil: chop the bunch of basil finely and place in a bowl with a pinch of salt, then pour over the oil and stir to combine.

2. Slice the peaches in half, remove the stones and slice into generous-sized pieces.

3. Slice the figs and the mozzarella in half. Arrange all the ingredients attractively on a plate.

4. Season generously with salt and pepper, spoon over the basil oil, and serve.