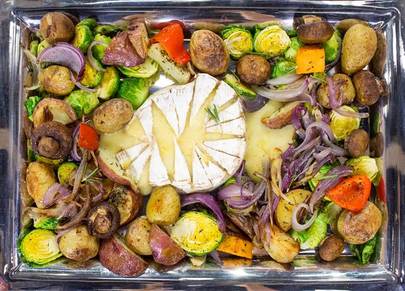 Brie Cheese Fondue with Roasted Vegetables
This is a stress-free dinner for two with all the flavor and fun of fondue, but without the need for any special cooking or serving equipment- all you need is a roasting tray! Serves 2
Ingredients
8

small potatoes

halved

8

small brussels sprouts

1

red bell pepper

roughly cut into large strips

1

yellow bell pepper

roughly cut into large strips

1

red onion

roughly cut into large chunks

1/2

sweet potato or yam

roughly cut into large strips

5

small portobello or button mushrooms

2

Tbsp

extra virgin olive oil

3

tsp

Herbes de Provence

3

sprigs fresh rosemary

pulled apart

1

whole small wheel of double- or triple-creme Brie cheese- try Fromager d'Affinois

Saint Angel, Pierre Robert, Woolwich Triple Creme Goat Brie, or about half a pound

Salt and pepper
Instructions
Preheat the oven to 400 F. Line a roasting tray with parchment paper. Arrange all of the vegetables (except the mushrooms) on the tray. Drizzle with the olive oil and season with the rosemary, Herbes de Provence, salt, and pepper. Roast for 30 minutes, turning the vegetables occasionally, then add the mushrooms and cook for another 10 minutes or so (test a potato with a fork).

Use a knife to carve some scratches on top of the Brie, then place it in the center of the tray so it opens up as it cooks. Cook for another 5 to 10 minutes.

You now have impromptu fondue! Serve with skewers for dipping the veggies.