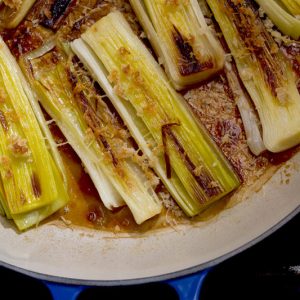 Braised Leeks with Balsamic & Parmesan
Helpful hint; Makes a lovely side dish with any protein or top with crumbled crispy pancetta or bacon for an appetizer. Serves 4
Ingredients
4

Leeks

1

T

unsalted butter

1

T

Dulcet Essential Balsamic Sauce & Dressing

1/2

c

veggie or chicken stock

2

T

fresh bread crumbs1-2freshly grated Parmesan cheese

Fresh ground black pepper
Instructions
1. Cut away the green stem, leaving just the white and light green part of the leek, trim the

root-end and then cut the leek in half lengthwise.

2. Place the leeks in a bowl of cold water cut side down for 10 minutes.

3. Run water over each leek individually to remove any grit, place on paper towel to dry.

4. Melt the butter in a heavy ovenproof sauté pan over medium heat on the stovetop.

5. Add the leeks cut side down and cook until golden brown, carefully turn the leeks so

the cut side is up and cook until golden, approx 4 minutes per side.

6. Add the stock and reduce heat to low, cover pan and simmer until tender, approx. 15 minutes.

7. Turn oven on to broil.

8. Once leeks are tender, remove lid and increase heat to reduce any cooking liquid

remaining in pan.

9. Turn off stovetop and drizzle leeks with the Dulcet Essential Balsamic Sauce,

top with bread crumbs, cheese and pepper.

10. Place in oven and broil until breadcrumbs are crunchy and cheese is melted.