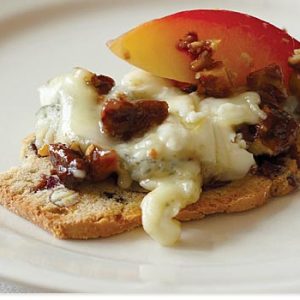 Baked Bonne Bouche with Roasted Fruit
This would make a simple yet beautiful dessert or snack any time of year, using the fruits of the season!
Ingredients
1

pound

ripe but firm fruits (apples

pears, peaches, plums, figs…)

2

tablespoons

fresh squeezed lemon juice

1.5

tablespoons

sugar

depending on the sweetness of fruit

2

tablespoons

unsalted butter

cut into pieces

2

tablespoons

sweet wine

eau de vie, complimentary liqueur or juice

2

tablespoons

fresh herbs (rosemary

thyme or sage leaves)

½

cup

nuts (almonds

pecans, pistachios, hazelnuts or walnuts)

1

chilled Bonne Bouche

Toast

snaps, tuiles, or biscotti for serving
Instructions
Preheat oven to 400°F.

With a fork, prick the skins, pit and quarter large or halve small fruits. In a baking dish or small roasting pan, toss fruit with liquids, sugar, butter, and herbs. Roast, tossing occasionally, until fruit begins to darken and tenderize- about 10 minutes. Reduce temperature to 350°F.

Top the fruit with the Bonne Bouche and sprinkle nuts over fruit and cheese.

Return to oven and bake about 5–10 minutes until cheese puffs up and is soft to the touch but before it begins to run and the nuts are toasted.

Remove and allow to cool slightly before serving with toast or biscuits.