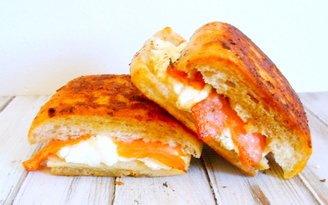 Smoked Salmon & PsycheDillic Grilled Cheese
It is still National Grilled Cheese Month, and we're so happy to find this recipe for a grilled cheese featuring Cypress Grove's PsycheDillic! Apart from the optional mayonnaise, you can find all of the ingredients right here at Tastings, including a par-baked ciabatta lunga!
Ingredients
1

loaf of ciabatta bread

1

small package of smoked salmon trimmings

1

package of Cypress Grove PsycheDillic Cheese

2

Tbsp

butter

mayonnaise

optional
Instructions
Slice the ciabatta bread in half lengthwise, then slice into sandwich-sized sections.

Spread a generous amount of PsycheDillic onto the bottom half of the ciabatta bread.

Place several pieces of smoked salmon on top of the cheese.

After putting the top half of the bread on, you can spread a little mayonnaise on the outside areas of the sandwich, if you like. Or, just brush the top and bottom with a little melted butter.

Melt the remaining butter in a frying pan.

Once the butter is melted and is starting to sizzle, carefully add the sandwich to the pan. Let the sandwich cook for about 2 minutes, pressing down occasionally with a spatula.

Gently flip the sandwich over. Let the other side now cook another 2 minutes, again pressing occasionally with a spatula.

Flip the sandwich one more time and let it cook another minute, until heated thoroughly. Take it out, serve it up, and ENJOY!