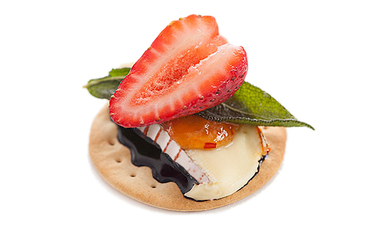 Rougette Bavarian Red with Strawberries and Crispy Sage
This a perfectly little appetizer that is amazingly sweet, savory, spicy, creamy, and crispy all at the same time! You wouldn't think this combination of ingredients would work, but it does!
In a medium skillet, reduce the balsamic vinegar, on medium heat, until syrupy (Note: err on the thinner side, as it will thicken more as it cools). Set aside.

Pour olive oil in a small skillet heated to medium-high heat. Fry sage leaves until crisp, about 5 seconds per side and set aside on a paper towel lined plate. Let cool.

Slice Rougette cheese in ¼ inch thick slices and then cut in 1″ by 1″ pieces.

Spoon a ½ teaspoon of balsamic reduction on each cracker, top with cheese, ½ teaspoon red pepper jelly, fried sage leaf and sliced strawberry.