GUIDE TO CHEESE
What is Specialty Cheese? Specialty cheese is defined as a cheese of limited production, with particular attention paid to natural flavor and texture profiles.  Specialty cheeses may be made from all types of milk (cow, sheep, goat) and may include flavorings, such as herbs, spices, fruits and nuts.
What is Artisan or Artisanal Cheese? The word "artisan" or "artisanal" implies that a cheese is produced primarily by hand, in small batches, with particular attention paid to the tradition of the cheesemaker's art, and thus using as little mechanization as possible in the production of the cheese.  Artisan, or artisanal, cheeses may be made from all types of milk and may include various flavorings.
What is Farmstead Cheese? In order for a cheese to be classified as "farmstead," as defined by the American Cheese Society, the cheese must be made with milk from the farmer's own herd, or flock, on the farm where the animals are raised.  Milk used in the production of farmstead cheeses may not be obtained from any outside source.  Farmstead cheeses may be made from all types of milk and may include various flavorings.
How Do I Store Cheese? When wrapping cheese you want to maintain moisture while allowing the cheese to breathe. Use aluminum foil, wax paper or plastic wrap (least favorable). Wrap securely and store in consistent temperature, preferably in the bottom drawer of the refrigerator.
Fresh Cheeses, such as cream cheese, are fragile and highly perishable-eat them quickly. They are best kept in airtight containers.
Soft-ripened and triple crèmes will keep at least a week refrigerated in plastic, but waxed paper is better if you can keep out the air.
Semi-soft cheeses such as Taleggio should be wrapped with plastic (stinky, washed-rind cheeses like Alsace Munster should have their wrapping changed often.)
Semi-firm cheeses such as Comte and Fontina should be wrapped securely to maintain moisture. In some instances when the cheese is crumbly and moist like Caerphilly, wrap it in a slightly damp cloth.
Avoid letting hard cheeses like Parmigiano-Reggiano dry out; keep them securely wrapped in wax paper or foil.
Wrap Blue cheese securely in foil and refrigerate.
With individual chevres (eg. Valency, Crottin de Chavignol), avoid plastic wrap. Opt instead for foil, wax paper, or sealed containers. This allows the cheese to breathe, retaining moisture as it ages, and developing flavor and texture for up to two months.
Pasta Filata such as Mozzarella and Provolone are very fragile cheeses and should be consumed quickly, if fresh. Avoid letting harder versions dry out by wrapping securely.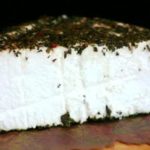 FRESH
The term "fresh" is used to describe cheeses that have not been aged, or are very slightly cured.  These cheeses have a high moisture content and are usually mild and have a very creamy taste and soft texture.  These may be made from all types of milk and in the United States, these cheeses will always be pasteurized.  It is always best not to buy fresh cheeses if they are not going to be consumed before the expiration date indicated on the package, as they are highly perishable.
OUR FAVORITES
Fleur de Maquis, Roule Herbe, Chevre, Mozzarella, Ricotta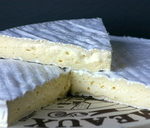 SOFT-RIPENED
Soft-ripened cheeses begin firm and rather chalky in texture, but are aged from the exterior inwards by exposing them to mold. The mold may be a velvety bloom of Penicillium candida or P. camemberti that forms a flexible white crust and contributes to the smooth, runny, or gooey textures and more intense flavours of these aged cheeses.
OUR FAVORITES
Brie, Camembert, Cravanzina, Humboldt Fog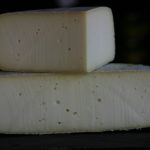 SEMI-SOFT
The terms "firm" and "hard" are used to describe a very broad category of cheeses.  Their taste profiles range from very mild to sharp and pungent.  They generally have a texture profile that ranges from elastic, at room temperature, to the hard cheeses that can be grated.  These cheeses may be made from pasteurized or raw milk, depending on the cheese and the cheesemaker.
OUR FAVORITES
Morbier, Taleme, St. Nectaire, Fontina Val'Aosta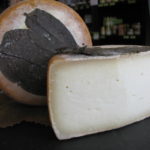 FIRM/HARD
The terms "firm" and "hard" are used to describe a very broad category of cheeses.  Their taste profiles range from very mild to sharp and pungent.  They generally have a texture profile that ranges from elastic, at room temperature, to the hard cheeses that can be grated.  These cheeses may be made from pasteurized or raw milk, depending on the cheese and the cheesemaker.
OUR FAVORITES
Prima Donna, Vintage Gouda, Parmigiano-Reggiano, Pecorino, Manchego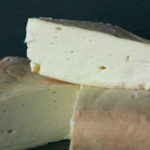 Washed-Rind
"Washed rind" is used to describe those cheeses that are surface-ripened by washing the cheese throughout the ripening/aging process with brine, beer, wine, brandy, or a mixture of ingredients, which encourages the growth of bacteria. The exterior rind of washed rind cheeses may vary from bright orange to brown,  with flavor and aroma profiles that are quite pungent, yet the interior of these cheeses is most often semi-soft and, sometimes, very creamy.
OUR FAVORITES
Epoisse, Chimay, Taleggio,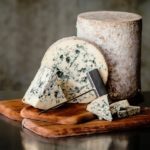 Blue
The term "blue" is used to describe cheeses that have a distinctive blue/green veining, created when the penicillium roqueforti mold, added during the cheesemaking make process, is exposed to air.  This mold provides a distinct flavor to the cheese, which ranges from fairly mild to assertive and pungent.  Blue cheeses are found in all of the categories above, except for fresh cheeses.  These cheeses may be made from pasteurized or raw milk, depending on the cheese and the cheesemaker.
OUR FAVORITES
Roquefort, Gorgonzola Piccante, Rogue Smokey Blue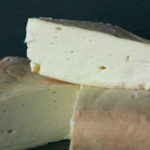 Natural Rind
"Natural rind" cheeses have rinds that are self-formed during the aging process.  Generally, no molds or microflora are added, nor is washing used to create the exterior rinds, and those that do exhibit molds and microflora in their rinds get them naturally from the environment. Because most natural rind cheeses are aged for many weeks, to develop their flavor as well as the rinds, many natural rind cheeses are made from raw milk.
OUR FAVORITES
Tomme de Savoie, Stilton,  Pecorino Toscano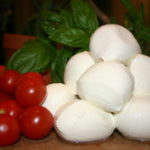 Pasta Filata
The term "pasta filata" is applied to a whole family of cheeses, mostly of Italian origin.  The pasta filata cheeses are cooked and kneaded, or "spun," as the name implies.  This family of cheeses can range from very fresh to hard grating cheeses, depending on the cheese and the producer.
OUR FAVORITES
Mozzarella, Burrata, Scamorza, Provolone